Why You Should Choose xTool D1?
Posted by XTOOL ONLINE STORE
Laser engraving is a brilliant technology that makes customization quick and precise. While many companies have tried to develop a portable and desktop laser engraver readily available to users, xTool is the first one to introduce a beginner-friendly version that produces excellent results while being light on the pocket,
The xTool D1 laser cutter and engraver comes with advanced and innovative features, set in a design that is safe even for kids to use. In this article, we will discuss the main highlights of the best-selling engraving and cutting machine and look at each feature in greater detail.
The xTool D1 is a higher-accuracy Diode DIY engraving and cutting machine that allows users to cut various materials, including metal, wood, acrylic, leather, glass, etc. This machine is compact compared to similar options available in the market, but it offers an ample working space of around 17*16 inches, making it convenient to engrave more patterns at once.
The xTool D1 delivers highly accurate results owing to its industrial-grade structural design and ultra-fine compressed laser spot. The engraving and cutting machine is probably the best down-sized industrial power cutter for designers, artists, business starters, and professionals.
Let's have a look at the solid features offered by xTool D1 that set it apart from the competition.
Detail 1. xTool D1 has an industrial-grade robust design.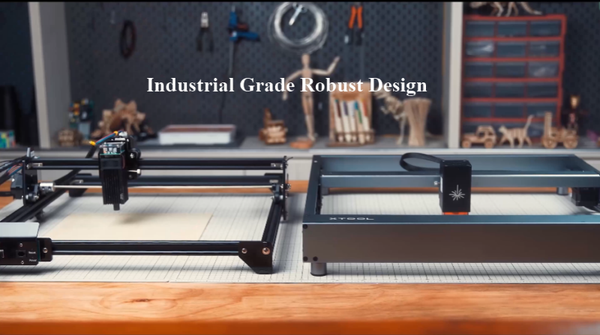 The xTool D1 comes nicely packed in a compact box. The assembly of the machine takes around 30 minutes which is a considerable step up from other engraving machines where you have to put together everything, costing you a good amount of time. Instead of an ordinary aluminum extrusion black frame, this machine is made of steel. The exceptional build quality of xTool D1 feels robust and rigid, unlike other engraving machines available at the same price.
Detail 2. The wires of xTool D1 are more neatly arranged.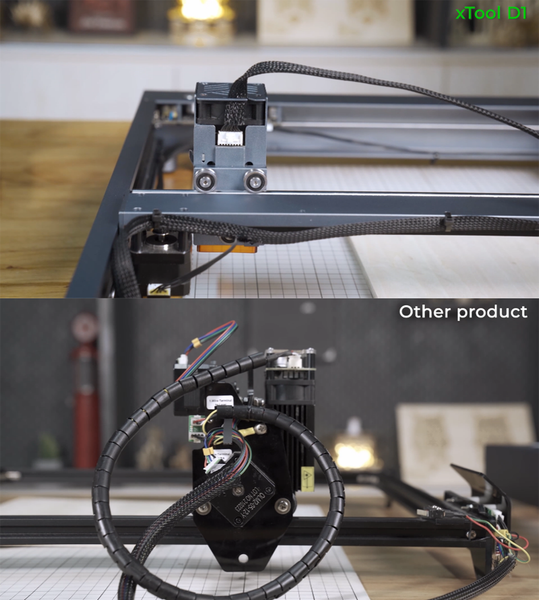 Generally, desktop engraving machines have visible wires that look messy and often get in the way of your engraving and cutting process. The xTool D1 is different; it has a sleek design that effectively conceals the machine's wiring to ensure a clean look. Moreover, this variant has been designed to be beginner and kid-friendly; therefore, the wires are neatly arranged to avoid mishaps.
Detail 3. The hidden components of xTool D1 are safer.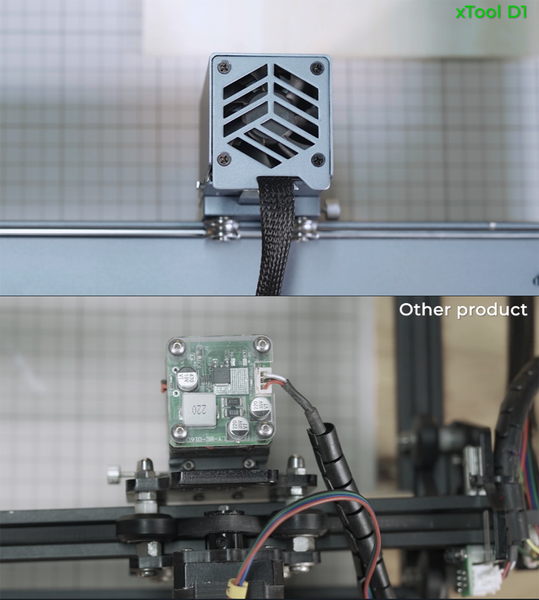 If the components of the engraving machine are not concealed, there is always a remote chance of tampering and the risk of an accident. The xTools D1 is an industrial-grade engraving machine, but it has been created for use at home; that places greater responsibility on the company to design a device that is safe and easy to use. Concealing components is an attempt by xTool to create a safer engraving and cutting machine design.
Detail 4. xTool D1 uses more solid steel.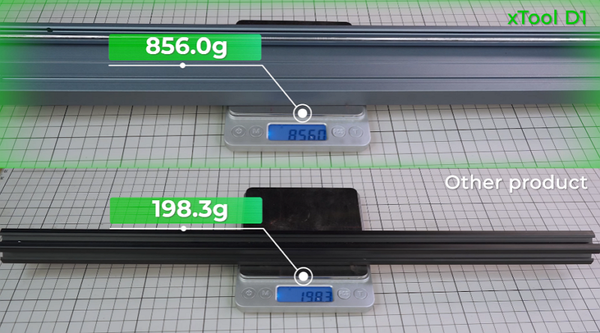 The xTools D1 is a serious upgrade if you compare it with other products in the same category. A significant improvement from a typical diode machine is the steel rods and wheels. While plastic wheels are standard in most lasers and 3D printers, this machine has steel wheels making it a class apart. Steel rollers allow for less mechanical wobble and higher precision. Using steel in rods and wheels helps increase the machine's overall life and also enables it to operate at the max speed of 10,000mm/ min with accuracy.
Detail 5. xTool D1 is designed with an enclosed synchronous belt.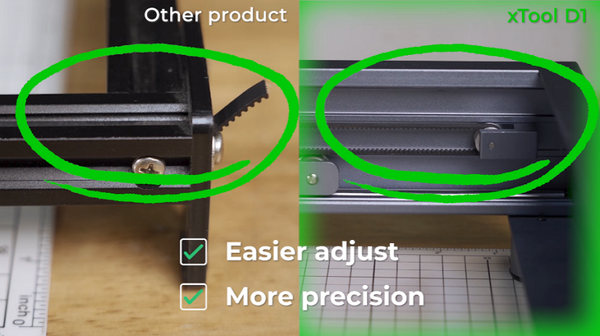 In most engraving machines, tightening the belts is a challenging task, but the xTool D1 has a screw on the outside that tightens the belt as it's screwed down. When the synchronous belt is secured tightly, it eliminates the movement gap effectively, increasing the machine's movement stability and reducing vibrations. This feature helps deliver accurate engraving results despite high processing speeds.
Detail 6. xTool D1 provides a high-precision and long-endurance laser experience.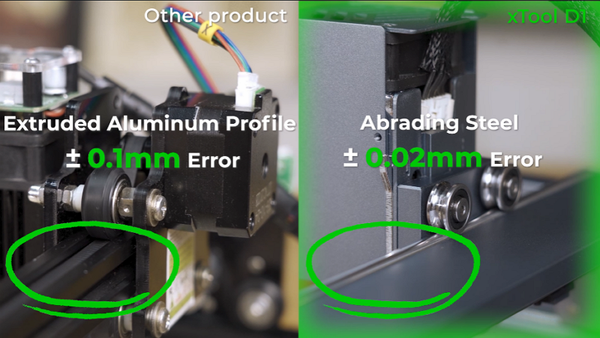 The accuracy of the xTool D1 is noteworthy. The machine uses a convex lens to compress beams at a very tiny spot with the dimension 0.08*0.08mm. This technology enables it to create ultra-fine engravings with minimum burn marks. The engraving machine is ideal for delicate details as each image and vector graphic is engraved at very high precision.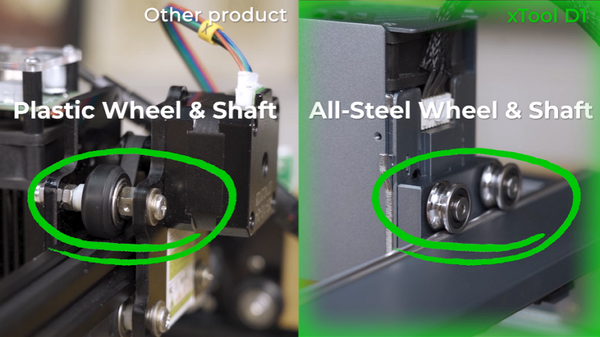 There are many factors that add to the life of xTool D1. Firstly, the machine uses a diode laser engraver that lasts more than CO2 laser machines. In addition, the all-steel frame and fixtures offer maximum stability and durability as opposed to regular laser machines made of aluminum which is not as strong and enduring as steel.
The steel wheels and shaft can support 100,000+ slides and can extend the machine's life by three times compared to plastic parts.
Detail 7. xTool D1 can work precisely at high speed.
The xTool D1 remains remarkably stable at high speeds with a minimum wobble. One of the prime reasons for its stability is the robust metal frame, steel wheels, and shafts that allow it to function smoothly.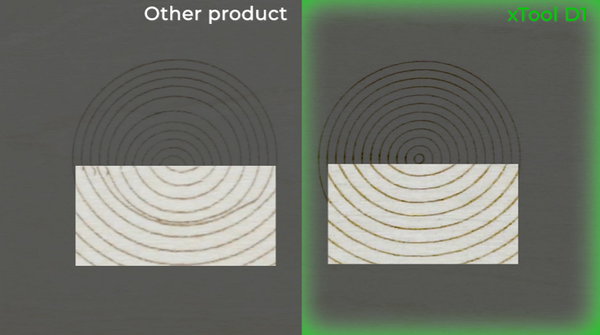 Another feature that makes xTools D1 stand out is its outstanding repeat positioning accuracy. Traditional laser machines fail miserably at making vector graphics, resulting in inaccurate lines and patterns. However, xTool D1 offers a repeat positioning accuracy of less than 0.02mm, which is relatively high compared to other alternatives on the market.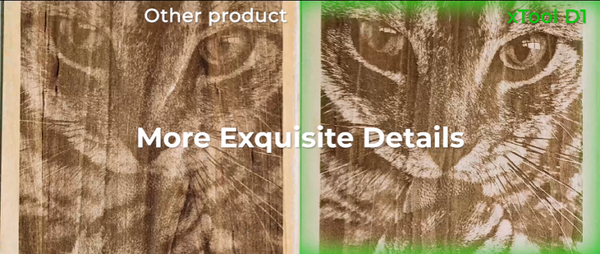 Repeat positioning accuracy ensures that each line is created with precision, leaving little room for error. This feature helps bring out the finer details, creating more elaborate and exquisite designs.
Detail 8. xTool D1 can engrave and cut with high power.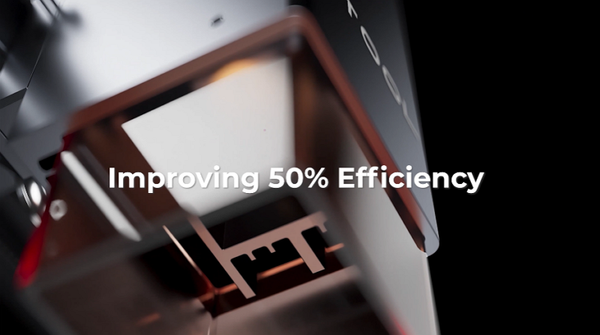 The xTool D1 employs an innovative dual laser technology that allows two laser beams to combine into one powerful beam capable of higher cutting at a faster speed. The laser spot is 0.08*0.08mm, which is very small and impressive for a diode laser.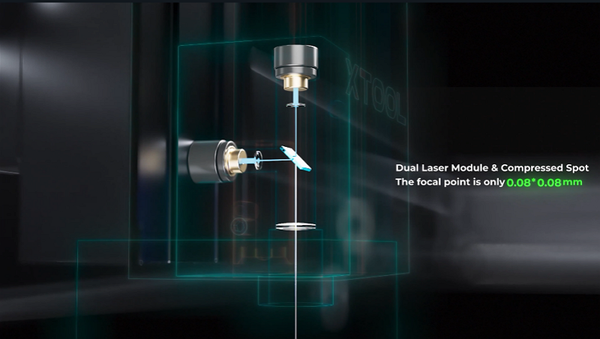 The power of a 10W dual laser is equivalent to 15W of a single laser which means xTool D1 uses higher power than other diode lasers to deliver superior results.
Detail 9. xTool D1 can cut thicker and deeper.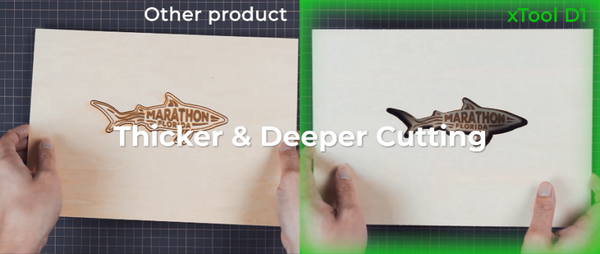 Since the xTool D1 uses high power to engrave and cut materials, it not only makes the engraving more accurate but also enables the machine to cut thicker materials easily. It can cut acrylic, plywood, hardwood, and other materials in lesser passes than other laser machines, making the process less time-consuming and more practical.
To Sum-up!
The xTool D1 is a premium machine with a well-thought design and features. Its solid frame and metal fixtures make this a worthwhile investment as you get more uses out of the machine than other diode laser machines. The powerful 10W laser module ensures fast cutting and precise engraving. Precise and fast, the xTool D1 is perfect for someone looking for a good and almost industrial-grade desktop laser engraver.
More questions? Join our Facebook Group to get inspired!
Collection 2019
Sale 70% Off
Title for image