D1 Extension Kit is Coming: xTool D1's Size Now Has Doubled!
Posted by XTOOL ONLINE STORE
xTool is proud to announce the launch of the extension kit for D1. The kit will be available on the official website from June 15, 2022.
The users will now be able to increase the working area of their existing D1. They can easily install the kit to their machine and detach it whenever they want.
The kit maximizes engraving productivity and makes the work of the users easier. In addition, it allows the engraving of more objects in its larger engraving area.
How Does the Kit Maximize Your Engraving Productivity? 
The kit maximizes productivity in a few ways. The engraving area of D1 is 432*406mm (17*16 inch), which is more than the size of an A3 paper. This engraving area is large enough to engrave the most commonly used objects.
Now, this engraving area can be increased using the D1 extension kit. After the installation of the kit, the working area will be 940*432mm. This large engraving area allows you to engrave larger objects.
As the engraving area is increased, you are capable of engraving a wider range of objects. It increases your overall productivity by diversifying the size of objects you can engrave.
Secondly, when you have a large engraving area, you can also engrave multiple objects at the same time. It requires a bit of effort, experience, and skills to engrave more than one object, but it can be done easily. It makes the engraving faster and increases your productivity multiple times.
Thirdly, if you want to cut several pieces out of wood, the maximum length of the object can be 432mm without extension. With the extension, the maximum length of the object will be 940mm, which is twice more. Thus, you cut more pieces at a time.
Who Needs This Kit? 
The kit is excellent for people who do business through their D1. It will increase their capability of engraving more objects. They can easily engrave larger objects, such as surfboards, skateboards, guitars, large wall hangings, and all those objects that are within the length and width of the machine.
Businessmen can increase their range of products, increase overall productivity, and make things at a faster speed. They can increase overall revenue by engraving larger objects that common laser engraving machines cannot do.
Laser enthusiasts, DIY lovers, and other users of D1 who need to engrave large objects should get this extension. It maximizes the potential of the machine as well as the user.
Things You Can Do with the D1 Extension Kit
The size of the D1 is doubled when you attach the extension kit; therefore, you can do a lot of things that you cannot do without extension or using other small laser machines. Here are a few project ideas that you can consider for understanding the capability of the kit.
Surfboard
The extension kit makes the machine large enough to engrave a gigantic surfboard. Attach risers to D1 to increase its height and then engrave the surfboard without any hassle. You can make your surfboard more attractive or customize it. With that being said, D1 can also be used to make customized surfboards for athletes and clients.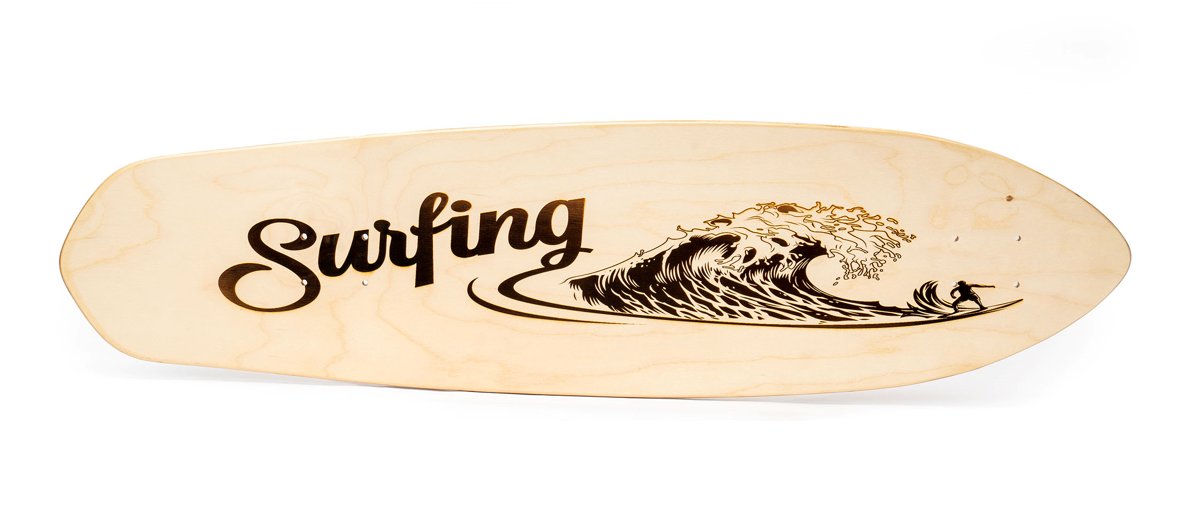 Floor/Standing Shelf
You can also make a standing shelf for your books and other items. D1 can easily engrave on the wood panels with the extension kit. It can help you make the shelf more attractive and appealing.
Batch Cutting of Flowers and Other Shapes
If you want to cut many pieces of a shape, it can be done with D1. Just put the material under the machine and cut a batch of pieces in one go. Multiple pieces can be cut without any hassle.
Large Engraved Wood Boards
Large wall hangings and wood boards can be made using D1. You can take a large piece of plywood and engrave anything you like. It can also be used to engrave text, images, captions, quotes, or whatever you like.
Giant Logos and Wood Decorations
D1 is capable of cutting large logos that can be used for decoration. It can also engrave signs and wooden items. If you have got a nice scenery or picture, it is a good idea to engrave it on a simple piece of wood.
Collection 2019
Sale 70% Off
Title for image